Home Improvements
Bathroom and kitchen renovations
Beautiful kitchen renovations to transform your home
The experienced and professional team of tradies at Kincoat specialise in making home improvement stressfree and easy.  With a team of professional carpenters, painters, gyprocers and tilers we've got all the experts on board to create stunning kitchen transformations that not only look amazing but add value and style to your home.   From investment properties to high-end kitchens, our carpentry team will work with you to design a beautiful kitchen that enhances your interior and works with your budget.
Bringing dream kitchens to life
From modern or contemporary to traditional or classic, our friendly and experienced team can help bring your dream kitchen to life.  We offer free design consultations and we know all the tips and tricks to make a small kitchen feel bigger and how to maximise storage in a small space. To ensure you get the look and feel you want you can choose from a huge selection of door designs in a wide selection of colours and finishes. 
Love your kitchen
We want your kitchen to be a space you'll love to use and where you'll feel a seamless flow.  We offer a range of space-saving gadgets and design our kitchens to not only look great but function beautifully.  You can choose from standard or soft closing doors along with 'push to open' fittings so there's no need for door handles if you prefer a minimalist look and feel.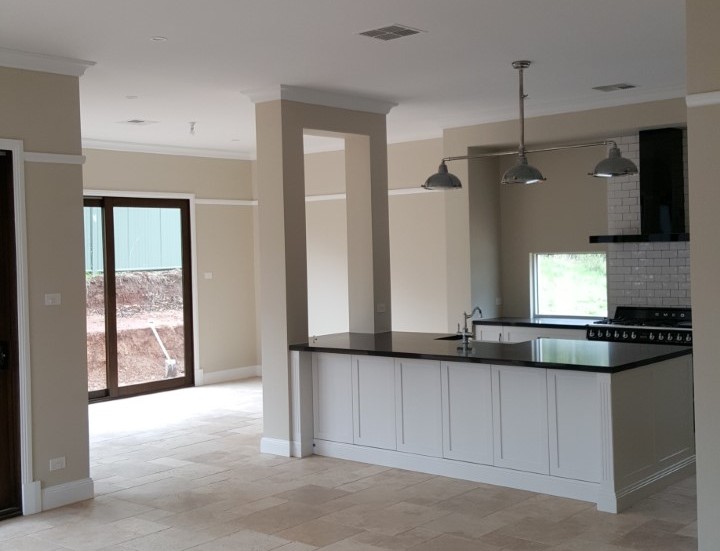 Kitchen redesign or replacement
The Kincoat team can design a kitchen around your budget.  Kitchens and bathrooms are often a critical factor when it comes to selling a home and we know that sometimes you need a 'quick fix' when preparing a home for sale or updating an investment property.  Our kitchen design team can work with you to totally redesign your kitchen or simply replace the existing units and worktops to give your kitchen a fresh modern feel.
Complete kitchen solutions
Kincoat pride themselves on offering excellent customer service so you can be assured that when we design your kitchen we are with you every step of the way.  From the initial design consultation to the final clear up we'll take care of everything.  With all the experts in one place, we have all the resources available to give you a complete kitchen solution.  From re-tiling your walls and floors to building a bulkhead or a complete kitchen redesign, we've got you covered.  Large or small kitchen, budget or expensive, we've got the perfect kitchen solution for you.
Creating beautiful bathrooms you'll love to use
The professional home renovations team at Kincoat Painting love bathroom renovations and makeovers.  With all the experts in one place, we'll design and install a beautiful bathroom that you'll want to spend time in.  Our specialist team can help you transform an outdated bathroom into a stylish oasis for grooming, relaxing and pampering.
Complete bathroom renovations
Planning a new bathroom can be stressful and overwhelming with so many parts to consider- bath, shower, shower screen, tapware, vanity units, tiling and waterproofing to name but a few.  Which is why our professional tradies at the will take care of all the hard work so you can focus on the fun part – choosing beautiful fittings and relaxing in your new space.  Simply tell us what you want and we'll work with you to design, quote, supply and install your dream bathroom.
Stress-free and easy bathroom renovations
Kincoat work closely with our clients to ensure we make the most of your space and look at all the subtle details especially the placement of your toilet, shower and vanities to ensure that even the smallest of bathrooms has a seamless and easy flow.   Our expert bathroom fitters offer a free quotations service and provide a complete service from start to finish.
We'll take care of removing and disposing of all your existing fixtures, fittings, flooring and wall tiles so you don't have to.
If you need new pipes, cables or underfloor heating we'll make all the necessary provisions available to make your dream bathroom a reality.
Waterproofing is a critical element in the integrity of your bathroom and our professional team will ensure your floors and walls are fully waterproofed and sealed to give you years of use.
From sleek and stylish to beautiful budget, we've got a range of fabulous vanities and mirrors to add a touch of elegance and plenty of storage to your bathroom.
Tiling can make a huge difference to the look and feel of your bathroom and we can help and advise you on the best tiles to use.  Plain, patterned or mosaic tiles we will create a gorgeous look that will compliment your interior.
We work with all the major suppliers to ensure you get an amazing choice of sanitaryware from built-in spas, freestanding baths to close-coupled toilets and innovative tapware we've got the full range from budget to luxury.
Finishing touches
& clean up
To add the finishing touches to your bathroom we'll install the towel rails, toilet roll holders and wipe your bathroom over to ensure it is sparkling clean and ready to use.
Quality bathroom installations
Choosing your bathroom fixtures and fittings is the fun part of bathroom design but choosing the right renovation company is critical.  Every renovation project we do is meticulously planned and fully managed by a project supervisor. With years of experience in bathroom renovations, our tradies know the standard of finishing that's required and our supervisors inspect every stage of the project to ensure we deliver your bathroom to the highest quality standards.
Bathrooms on a budget
As Kincoat regularly works with property developers and housing managers we know that sometimes a complete bathroom renovation is simply not required.  We offer project solutions for all budgets and can work with you to update and refresh your bathrooms on a limited budget.
Satisfaction guaranteed
A large part of our enduring success has been down to our people, our project management and our commitment to delivering quality workmanship. 
Then call or message us for a free quote on 0423 122 429